True Love Never Dies... Part 1
In light of recent events and "charity kissing"..
Hannah darling this is in no way as brilliant and lolzzzzzzzztastic as yours but only its useless little sister.
But I nevertheless dedicate this TO YEW to make up for the "plagiarising and taking on loan" of teh picture story idea thing.
Kate:
MAHAHAHAHA Come here you
Jemima: *terrified squeak*
Kate:
AHAHAHAHHAHAHAHAHHRAGHGAHGDSHAD LOOK PETER I DON'T NEED YOU ANY MORE
YOU OR THAT FILTHY FRENCH WHORE
Jemima: OMG EEEEEK NO! GET YOUR HANDS OFF -
Kate:
MWAHAHAHAHA
PETE: LOLZZZZZZZZZZZ *SHAKES HEAD* SUCH A SKANK
PETE: OMG OMG OMGZZZZ PLEASE MR TAXI DRIVER WILL YOU TAKE ME TO CARL'S HOUSE I NEED TO SEE HIM
TAXI MAN: *sighs, laughs* All right, come on then.
PETE: THANK YOU SO MUCH OMG YOU ROOOOOL *hugs him*
THE TAXI SPEEDS OFF WITH A BURST OF FLAMES!
BUT
AS LUCK WOULD HAVE IT.. THE FEDS ARE ABOUT, EATING DONUTS
"OMG OMG OMG THAT CAR'S DRIVING TOO FAST!"
*all lurch to their feet to see*
"OMG OMG IT'S PETE DOHERTY THAT LITTLE SHITE LET'S ARREST HIM AGAIN"
"HAHAHA YEAH"
PETE:
FUCK.
WHY OH WHY DON'T THEY STOP BUSTING MY CHOPSSSS?
PETE WAS PROMPTLY ARRESTED
BUT NOT MUCH CRIME WAS HAPPENING IN LONDON THAT DAY
SO THEY DRAGGED HIM TO COURT STRAIGHTAWAY
BUT BILO BATTED HIS EYELASHES AND CHARMED HIS WAY OUT
BECAUSE HE'S A DAB HAND AT A SOB STORY
"PLEASEPLEASEPLEASE IN THE NAME OF LOVE!"
SO THEY SIGHED, CHUCKLED AND LET HIM GO
"OH THAT DOHERTY - SUCH A KIDDER"
PETER FLED THE COURTROOM FOR HIS TAXI
PETE: SHIT OMG OMGZZZZ GO GO GO GO!!!!
THE TAXI DRIVER BEING MORRISSEY'S FIFTH COUSIN IS AWESOME
AND CROSSES LONDON IN .39 SECONDS
AND SCREECHES TO A HALT OUTSIDE CARL'S FLAT
PETE: *CHECKS WALLET* OH,
BOLLOCKS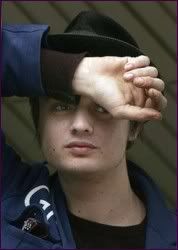 EHHH LISTEN MAN...
TAXI DRIVER CHUCKLES AND RUFFLES HIS HAIR
"NOT TO WORRY LADDIE. GO ON! NOW IS YOUR TIME!!"
PETE: I LOVE YOU. OMG. THANKS.
*puts finishing touches to his makeup, heart pounding*
*then takes a deep breath and jumps out*
PETE: OMG OMG OMG
*looks around, trembling with anticipation*
PLEASE LET HIM BE HERE
AND STILL WANT TO SEE ME
PLEASE LET HIM STILL LOVE ME...