"We kissed on the corner, and danced through the night..."
THE STORY OF THE DOHERATS OF ALBION MANOR
PART II
AS THEY WALKED AND TALKED AND DANCED AND SMOKED, PETE'S NEW LOVE TOLD HIM ALL ABOUT HER LIFE, HER PAST AS A BURLESQUE STRIPPER, HOW SHE HAD TURNED A FEW "NOT-TOO SERIOUS" TRICKS WHEN TIMES WERE HARD, HOW LOU REED WANTED HER TO MOVE IN WITH HIM BECAUSE SHE REMINDED HIM OF CANDY, NICO AND OTHER HAWT BUT WASTED BEAUTIES ALL ROLLED INTO ONE, AND HOW SHE HAD MADE A LIVING FOR A LITTLE WHILE LIVING WITH A STARVING ARTIST ROUND THE CORNER FROM THE FACTORY NYC, IN A LITTLE GARRETT ABOVE A PLAY-HOUSE, AND HOW SHE HAD BEEN PAID "REALLY WELL" TO SIT AROUND NAKED AND HAVE HER PORTRAIT DRAWN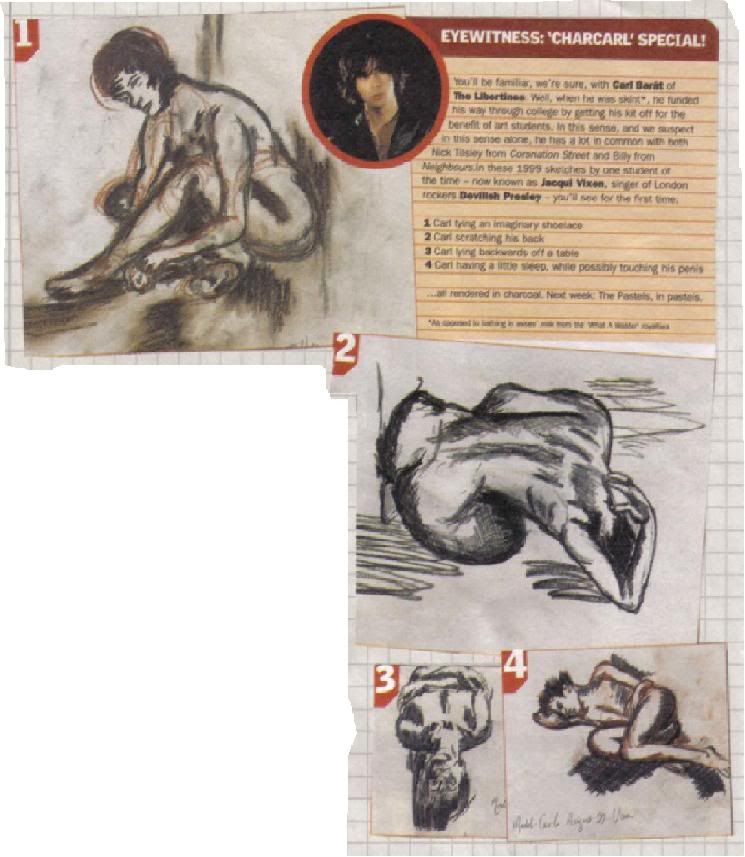 BUT PETER WAS CONCERNED! HE DIDN'T WANT THE NEW LOVE OF HIS LIFE BELONGING TO STARVING ARTISTS IN NYC OR LOU REED, EITHER
HE BEGGED HER, ON ONE KNEE, TEARFUL AND PLEADING WITH MOURNFUL EYES "OH PRECIOUS LADY, MY NEW FOUND LOVE, PLEASE SAY YOU'LL BE MINE. DO NOT RUN AWAY TO NYC. IT IS AN EVIL AND CORRUPT PLACE, FULL OF SWINE! LONDON IS NOT *COUGH****
YOU MUST STAY HERE WITH ME AND PROMISE NOT TO GO THERE OR TO GIVE YOUR HEART TO ANYONE ELSE EVER"
SHE ONLY SMILED AT HIM, SAT DOWN IN FRONT OF HIM AND GRINNED

AS SHE SAID "OH PETER, I WON'T. I LOVE
YOU
NOW...BUT I THINK YOU HAD BETTER KNOW, WHILE YOU'RE IN AN AMOROUS MOOD THAT I AM NOT A LADY. NOT EVEN A TRAMP. MY NAME IS CARL. AND I AM A BOY. HE.
MALE
, EVEN."
BUT PETER SAID HE DIDN'T
CARE
. HE WAS IN LOVE. AND THAT WAS THE IT, IN A NUTSHELL. SO CARL AGREED TO STAY WITH HIM. SINCE HE COULDN'T AFFORD THE FLAT HE SHARED WITH SIX GIRLS IN CHELSEA, ANYWAY. IT WAS A HORRID AND RUN-DOWN PLACE AND HE WAS ALWAYS GETTING CROSS AND UPSET BY THE OTHER GIRLS ALWAYS BEING IN THE BATHROOM WHEN HE NEEDED TO USE HIS HEATED EYELASH CURLERS AND HAIRDRYER. IT WAS NO WAY TO LIVE.
PETER WAS MORE IN LOVE THAN EVER. HIS NEW GIRL WAS ACTUALLY A
BOY
!
THIS WAS TOTES R*** AND R*LL, HE DECIDED. TOTALLY SOMETHING THAT WOULD HAPPEN IN A VELVET UNDERGROUND OR KINKS SONG. HE WAS HEAD OVER HEELS.
WITHOUT FURTHER ADO, HE LEANED IN, GENTLY PULLING 'CARL' BY THE COLLAR OF THE BEAUTIFUL BLACK SHIRT PETER HAD BEEN ADMIRING EARLIER, AND HOPED CARL WOULD WANT TO KISS HIM AS MUCH AS HE WANTED TO KISS
HER
HIM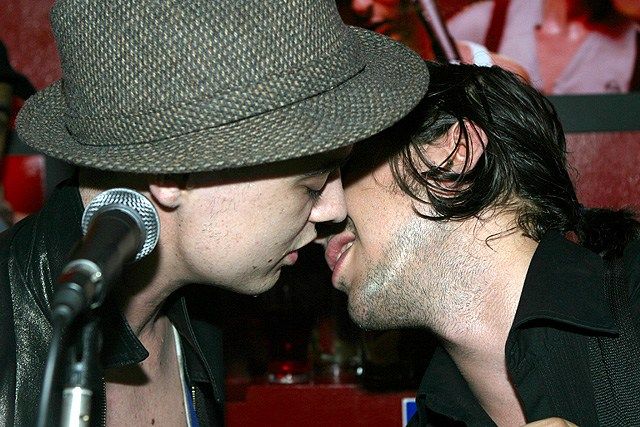 HE WAS RIGHT! HE DID!! PETER PULLED AWAY BREATHLESSLY
"FUCK--WOW!!"
CARL LOOKED SEDUCTIVELY BACK, FLUTTERING BLUE EYES WANTONLY
PETE DECIDED THEY SHOULD RUN
BACK TO HIS
SO THEY DID
ONCE THEY GOT THERE, PETE CALLED UP LOU REED AND CARL CALLED UP HIS ARTIST FRIEND IN NYC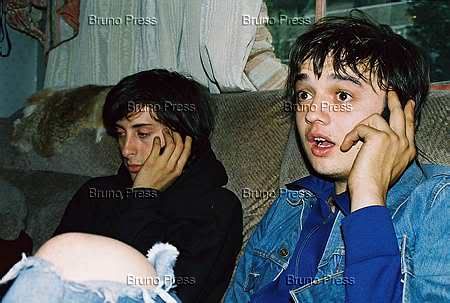 PETE: "ELLO? YEAH, HEYA LOUI LISTEN LISTEN, CARL CAN'T EVER SEE YOU AGAIN. ERM HE HAS TO BE A MODEL IN MY AGENCY. ER...WHAT AGENCY? UM UM UMM..WE WORK FOR DOLCE AND GABBANA. SO HE'S GONNA HAVE TO STAY WITH ME. FOR A VERYLONGTIME. RIGHT BYE"
CARL: "HEYA, ANDY? YEAH, THANKS. LISTEN WARHOL, I CAN'T COME BACK TO NYC. OH I JUST FELL IN LOVE. YEAH, NOT REALLY A BIG DEAL. OK. OH WOW THANKS! OK THEN! BYE!!"
CARL TURNED TO PETE WHO SAT EXPECTANTLY NEXT TO HIM: "OMGGG! GUESS WHAT??? ANDY SAYS HE'S GIVING ME SOMEMONEY AS A GOOD-LUCK TYPE GIFT!!"
PETER
PUZZLED
: "GOOD LUCK WITH WHAT..?"
CARL: "WITH BEING IN LOVE!!"
PETER: "OH YEAH LOLZ SORRY."
PETE GAVE CARL A ONCE OVER QUICKLY. CARL STARED UNABASHEDLY BACK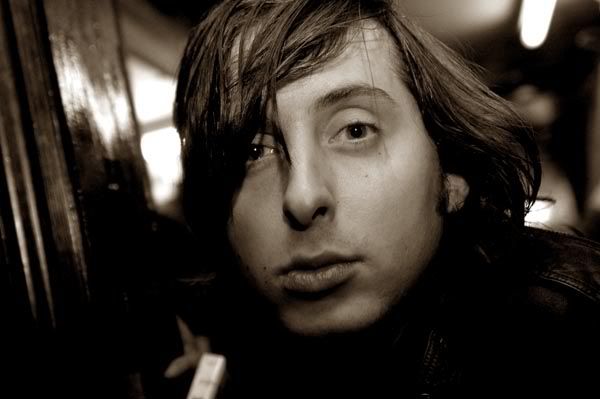 PETE DECIDED THAT HE DIDN'T REALLY CARE THAT CARLOS WAS A BOY AFTER ALL.
HE WAS STILL IN LOVE. AND THAT WAS ALL THAT MATTERED.
HE PULLED CARL INTO HIS LAP AND STARTED PETTING HIS BELLY.

AND CARL IN RETURN DID HIS BEST "COME HITHER PLZE" POUT EVER, SENDING PETE INTO CATATONIC SPASMS OF LUST
PETE: ZOMGGGG PLEASE TAKE YOUR CLOTHES OFF RIGHT NOW
OBLIGINGLY,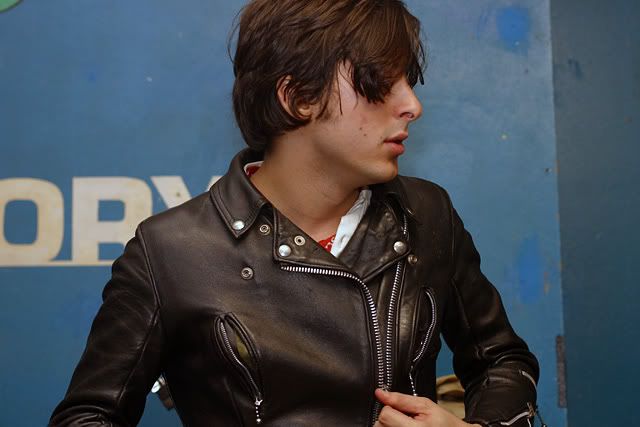 CARL STARTED WITH HIS JACKET
AND THEN HIS SHIRT
WHICH LEFT HIM IN A BLACK VEST AND JEANS. PETE WONDERED WHY HE WORE SO MUCH BLACK BUT COULDN'T WONDER FOR VERY LONG BECAUSE HIS MOUTH WAS ABSOLUTELY WATERING,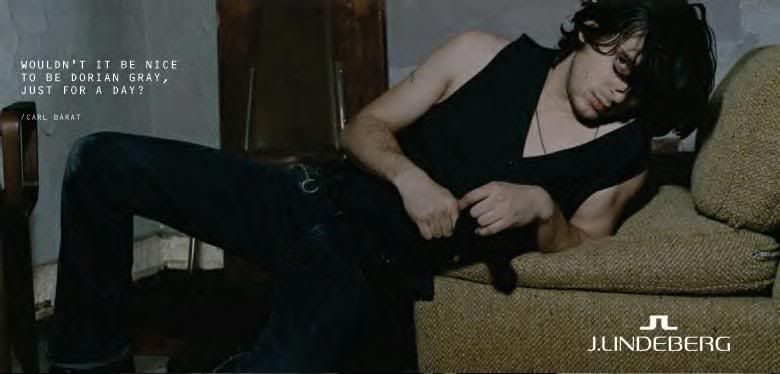 CARL WAS LOUNGING SEDUCTIVELY AGAINST PETE'S FAVORITE CHAIR AND PURRING
"COME ON THEN, PETER..."
...TO BE CONTINUED OMGG!!
*SPAZZES AND FLAILS*
CRAP! I'VE GOT TO GET TO THE POST OFFICE BEFORE IT SHUTS WAH *CRIES*
K MORE SOON WOOO
Hearts ♥ for my supah-lovers here omgosh!!
xxxxxxx